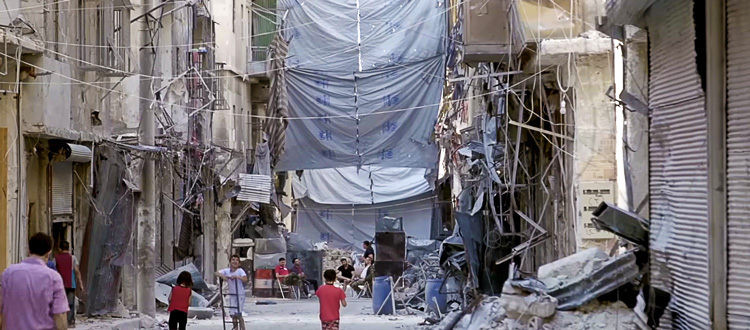 Internet in Syria Remains Critical – and Challenged
By Abdulrahman al-Masri
Internet in Syria remains critical – and challenged. Footage from Vice on HBO's latest documentary, Assad's Syria, shows​ a large web of exposed and intertwined wires in the street of a destroyed Aleppo neighborhood, an area​ that witnessed intense fighting between Syrian rebels and regime forces in late 2016.
The tangle of cords appears to be a collection of electricity and telecommunications wires, overarching two small steel lattice towers and connecting several nearby damaged buildings. The area's residents, many internally displaced Syrians ​from other areas, tap these wires for connection, says Vice journalist Isobel Yeung as she walks below the cloud.
These images of precarious infrastructure, however,​ are not unique to this Aleppo neighborhood. The now 7-year-old conflict in Syria has led to major destruction of various infrastructure in the country, including telecommunications. ​I​mages like this one​ not only highlight the extent of destruction endured by Syrian cities, but also the lack of secure telecommunications that ​exposes​Syrians, who are already living under threat of physical harm, to increased online vulnerability.
Getting online in Syria can be a challenge. Remarkable drops in internet speeds have recently been noted, which Syrian authorities have blamed on maintenance of underwater fiber cable in the Mediterranean, while others have reported a cable was damaged. Others have speculated that the perceived slow-down in internet speeds is the result of censorship or deliberate throttling, which has been used by authoritarian regimes in the past during periods of civil unrest. Data measured by Google on internet traffic volume in Syria in the last month suggests that the flow of data across the internet remains in common order.
Since war erupted in 2011, accessing the internet has become a critical need for Syrians. Communities in Syria today rely heavily on the internet to maintain contact with scattered family members, and to access vital information on local threats, risks, and resources, as well as news and education more broadly. The internet is enabling women to enter the work force, which for many in the rural countryside marks their first job experience. According to a survey study conducted by SalamaTech in 2016, over 70% of Syrians polled consider the internet as essential or important. The capacity of Syrian civil society is dependent on its ability to operate online, safely and effectively.
ABOUT SALAMATECH
Since 2012, SalamaTech has helped Syrian civil society stay safe online and make their voices heard. In providing Emergency Tech support, we assist Syrians who have been arrested or had their accounts hacked. We protect Syrian civil society organizations with Digital Safety Audits and Real-Time Remediation. Our network of on-the-ground Digital Technology First Responders provide in situ Be Heard training to empower women and youth to become active drivers of peace and development in Syria.