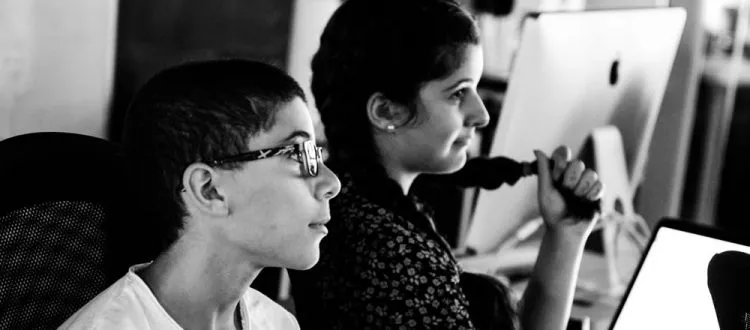 Look Beyond the CVE Buzzwords; See the People
With all the talk of countering violent extremism (CVE), it can be easy to lose sight of the most important aspect of any conflict: people. To actually affect change and help at-risk youth, for example, to find an alternative path, those kids must become the focus of our efforts. Fostering earnest human connections across cultures is one step that could lead towards actual prevention of violent extremism among youth trapped by conflict in countries such as Syria.
All too often in war, human beings are portrayed as some sort of faceless, dehumanized object, referred to as collateral damage or refugees. Moreover, through the fog of war, the humans trapped by conflict are all considered combatants, as if everyone caught in the crossfire has chosen to be there. It is this ease with which victims of war are forgotten by those at a safe distance that leads to violent extremism – for what other hope is there when a conflict drags on year after year? Where else is a child to turn who has lost everything but is desperate to take control and change their situation? Violence isn't just the easy answer; it can quickly appear to be the only option.
Words and messaging alone will not convince an orphaned youth in Syria, whose future prospects look dimmer with each day under siege, to turn away from violence as an answer to end the brutality which they experience daily. They must be thrown more than a pamphlet; at-risk youth in conflict need a lifeline.
In working with children trapped under siege in Eastern Ghouta, we know that they feel forgotten. There is a growing sense that the world has left them behind and does not care. Through a pilot initiative called A Tale of Two Cities, we pair youth in Eastern Ghouta with peers in Ottawa to help bridge this divide. In using the internet to connect youth in Syria and Canada, our aim is to build a digital peace, to foster solidarity and mutual understanding.
Over the summer as part of the project, we worked with a bright group of youth both in Ghouta and Ottawa. After hearing how isolated and frustrated their peers were feeling in Syria, the Canadian participants, 12-14 years old, created an awareness campaign to remind the world of these youth trapped by war. The campaign, #Salt4Syria, challenged people to show their solidarity with the kids of Ghouta by taking a pinch of salt and tasting the bitterness of war.
We know that this might not change anything, but I can see that my daughter is happier now, she has more hope for the future, she is eager to help and even asked if she could be an assistant in working with kids in Ghouta again.

A #Salt4Syria Participant's Mother
The response to our pilot project in Eastern Ghouta has been remarkable. Indeed, the outpouring of support and requests to expand and participate in the program have been overwhelming. The benefits of human connectivity can be easily overlooked in complex situations such as conflict – but for something that is so simply achieved – facilitating interaction and partnership between youth – the impact on at-risk kids can be immense.
The moment, I talked to you all. I felt that I have friends who do not know me. It is the first time that I feel that I belong to this world. We have been isolated. Now I have friends who can listen to me.

A Syrian Youth Participant in #Salt4Syria
While fostering relationships between at-risk youth caught in conflict is but a first step in ultimately preventing violent extremism, it is an important move. Ultimately, our challenge will be to continue to find meaningful ways these youth can help change the world around them. Of course, this raises another often forgotten aspect of CVE: at-risk people are susceptible to violent extremism because they are seeking to fill a void, they lack a productive channel for their energy – we must find and provide these alternatives to effectively stem the appeal of violence as a solution. This means we must look beyond manipulation or persuasion as an answer, to active involvement and mentorship.
You can begin your active engagement by sharing this message of solidarity with the youth in Ghouta. It might not seem like much, joining up for a Thunderclap, but there are young, at-risk people who are listening. Tell these kids in Syria that they are not alone – that they have friends. Help them build a brighter future.